LEADING CAR RENTAL BRANDS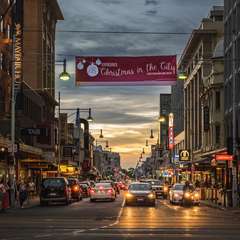 Rundle Mall Adelaide Australia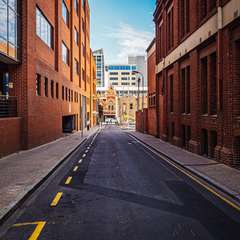 North Street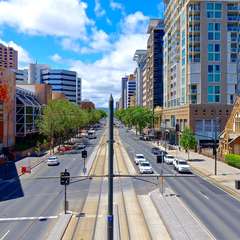 Adelaide City Street
Adelaide Driving Ideas Guide
Visiting Adelaide for the first time you will likely want to take a tram ride to Glenelg, have a walk on Henley or Semaphore Beach and wander through the leafy parks in central Adelaide.  But if you've picked up a rental car at Adelaide Airport and are wondering where to head to out of town, there's plenty on offer.
Here are three awesome trips you can take within several hours of the city centre.
Up into the Adelaide Hills
Within 30 minutes you can be driving up winding roads, through gentle hills to old settler's villages and vineyards.
No wonder the folks who live here don't come down from the Hills.  The views and lifestyle are stunning.
Head out on the Stirling to Hahndorf road. Stop in Stirling, park the car and stroll along the beautiful main street or take a bite to eat at the Stirling Hotel.
Another great place to visit, are the shops, cafes and pubs on historic Gawler Street at Mount Barker.
Kangaroo Island — Australia's third largest
Around 4 hours out of Adelaide you can be on the remote Kangaroo Island with over 1200 kms of roads, many of them unsealed.  There are stacks of wildlife, coastal scenery and remote beaches, so even though it's a mecca for tourists from Adelaide, it is never crowded.
Barossa Valley
No trip to Adelaide would be complete without a trip out to the Barossa Valley wineries. It's only a short 60km / 1 hour drive to the north west of Adelaide and free wine tasting is guaranteed to anyone at any of the many vineyards.
All the areas have good opportunities to stay over in accommodation to suit any needs, so you don't have to turn the car around and rush back.
At Cheaperthanhotels and Cheaperthancars we have a wide range of accommodation and car rental deals where you will be able to spend less and do more with the savings when you arrive are in Adelaide.
Your Cheaperthancars Team